Bookings available for festivals, private shows, weddings, and live music venues

For bookings: Email us at joshtiemannband@yahoo.com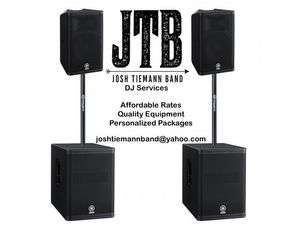 Ask about the WEDDING BUNDLE
Classical guitar during ceremony
Acoustic Cocktail Hour Performance
DJ Service during Reception
See what people are saying
"Josh, you and the guys did a superlative job last night. Thank you and them so much for your excellent playing, and for making the evening special for all of us. There were so many positive comments about your singing & all of the bands very great musical ability. 🙏🏻for your extra heavy work schedule!"  Judy Hancock 
"The wedding was magical, and you were great! Everyone enjoyed themselves. Paula commented the next day that she was sore from doing the "Twist." Thanks again for a wonderful evening of music and fun!!"
Bruce List 
"Josh was awesome at our wedding in October. His voice is amazing. He sang our first dance song and it was so so special. His playlist was great and our guests had so much fun and danced all night long. I would recommend him for your next event!"
Ashley Divin 
We would like to sincerely THANK YOU for all the effort you put into making our wedding so much fun! Your professionalism and passion for music definitely surpassed our expectation. You were very prompt with emails and so easy to work with since we first made contact with you. We've had quite a few friends and family ask about your services since the wedding. We are so grateful that you took the time to learn our first dance, it was beautiful and you sang it perfectly! 
For anyone out there looking for a Singer/Band/DJ Services Josh Tiemann is your man!!!! We highly recommend him for your event. Great Singer, super friendly and easy to work with. He will definitely make your event a memorable one!!!!!
Carl and Cathleen Collins 
"My wife and I would like to thank Josh Tiemann for doing such a wonderful job at our wedding! He was very professional and truly went above and beyond our expectations! His acoustic cocktail hour performance was wonderful! Both families and even the wedding venue commented on how great he did! During the reception he did a great job getting everyone out on the dance floor. He even went in the dance circle and cut a rug himself. He was a pleasure to work with. Thanks Josh!"                                                                                                                                                            
                  Ryan Swearingen
"Josh and the band were awesome at the wedding! From all of the announcing to the music, we could not have been happier. He and the band sang for hours and also DJ'd a few songs. If you want a band that is going to get your guests out on the dance floor, call Josh Tiemann! We highly recommend him! Thanks for everything!"                                                                                                                                                                            
 Corrie and Kurt Scardino                                                                                                                                                                                                 
"Josh was amazing at our wedding! He is a great live musician and DJ. He sang during the cocktail hour, all the guests enjoyed his music. We danced all night to him DJing a great playlist. We highly recommend Josh for your wedding or event!" 

Erik and Mayra Himanga


"We were lucky enough to have the very talented Josh Tiemann play acoustic at our wedding. He has such a great singing voice and we love his original work as well as his covers of our favorite songs. We wanted a particular song for our first dance, and he learned it for us and it was perfect! He played the music for our ceremony, entertained our guests during our cocktail hour, as well as played during our reception. Everyone was very impressed with him. He kept everything on schedule and was great with the guests. We were so happy to have him be part of our special day!"

Josh and Tammy Torres
"The Josh Tiemann Band recently played at my wedding and I couldn't have asked for a better group of guys to make my night special. 
They were extremely professional and wanted nothing more than for everyone to have a great time. Everyone there agreed that Josh and his band rocked the house!"                                                                                                                                                                                                                    
 Landon Hartwick